David Brooks attends 1st International Conference on Applied Science in Lao People's Democratic Republic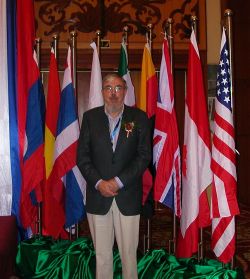 The 1st International Conference on Applied Science was held 5-7 November, 2006, in Vientiane, Lao People's Democratic Republic. The conference was sponsored and organized by the faculties of science at King Mongkut's Institute of Technlogy Ladkrabang, Thailand, and the National University of Laos, and was co-sponsored by the International Centre for Theoretical Physics, in celebration of NUoL's 10th anniversary.
The conference was attended by nearly 200 scientists and students, mostly from Lao PDR, Thailand, and Vietnam. There were also representatives from British Columbia, Japan, Sweden, and the UK. Dr. Brooks, invited by co-organizer Dr. Preecha Yupapin, Vice-Dean, Faculty of Science, KMITL, was the only representative from the United States. Following registration on 5 November, Dr. Brooks presented a tutorial on the design and application of inexpensive atmosphere monitoring instruments. At the opening ceremonies on 6 November, he presented one of three invited opening lectures, on the design and use of inexpensive sun photometers. He also chaired one of the engineering sessions.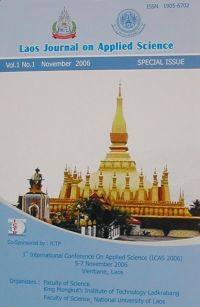 The purpose of the conference was to highlight progress being made in the development of research at KMITL and NUoL, including cooperation with universities in other countries. Hopefully, the contacts made at the conference will lead to joint projects for monitoring aerosol concentrations and other atmospheric properties over Laos and Thailand. In both countries, economic development leads to poor air quality due to increased biomass burning and the lack of effective controls on vehicle and industrial emissions. There is little local infrastructure for routine measurements of air quality. In keeping with Dr. Brooks' interest in student/teacher/scientist partnerships, It is hoped that such partnerships will allow students and teachers in developing countries to play important roles in increasing environmental awareness and shaping appropriate policies.
Conference proceedings constituted the first issue of the Laos Journal on Applied Science.