GLOBE 8th Annual Meeting
25-30 July, 2004, Boulder, Colorado, USA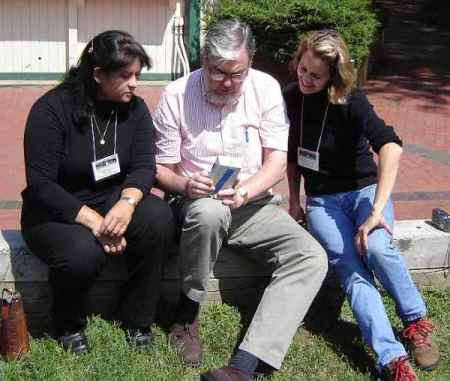 David Brooks shows Maria Lorraine de Ruiz-Alma (on left of picture) from the
Dominican Republic and Julie Westerlund from Texas State University - San Marcos
how to use a GLOBE sun photometer. Ms. Ruiz-Alma and Dr. Westerlund are planning
to establish a parnership between schools in Texas and the Dominican Republic to
exchange information about aerosols.
GLOBE held its first annual meeting since 2002, organized by its new leadership team from the University Corporation for Atmospheric Research (UCAR) and Colorado State University. Presentations of interest included:
David R. Brooks. Progress on Aerosols, Water Vapor, and UV-A Protocols.
Forrest M. Mims III and David R. Brooks. GLOBE Sun Photometer Measurements of Aerosol Optical Thickness (AOT) Agree Remarkably Well with Those by the Terra and Aqua Satellites
Westerlund, Julie, Brandy Bagnall, Jill Schuemate, and Carole Henry. GLOBE Aerosol Research Collaboration in Central Texas.